« Back to news list
MHS DECA Students Excel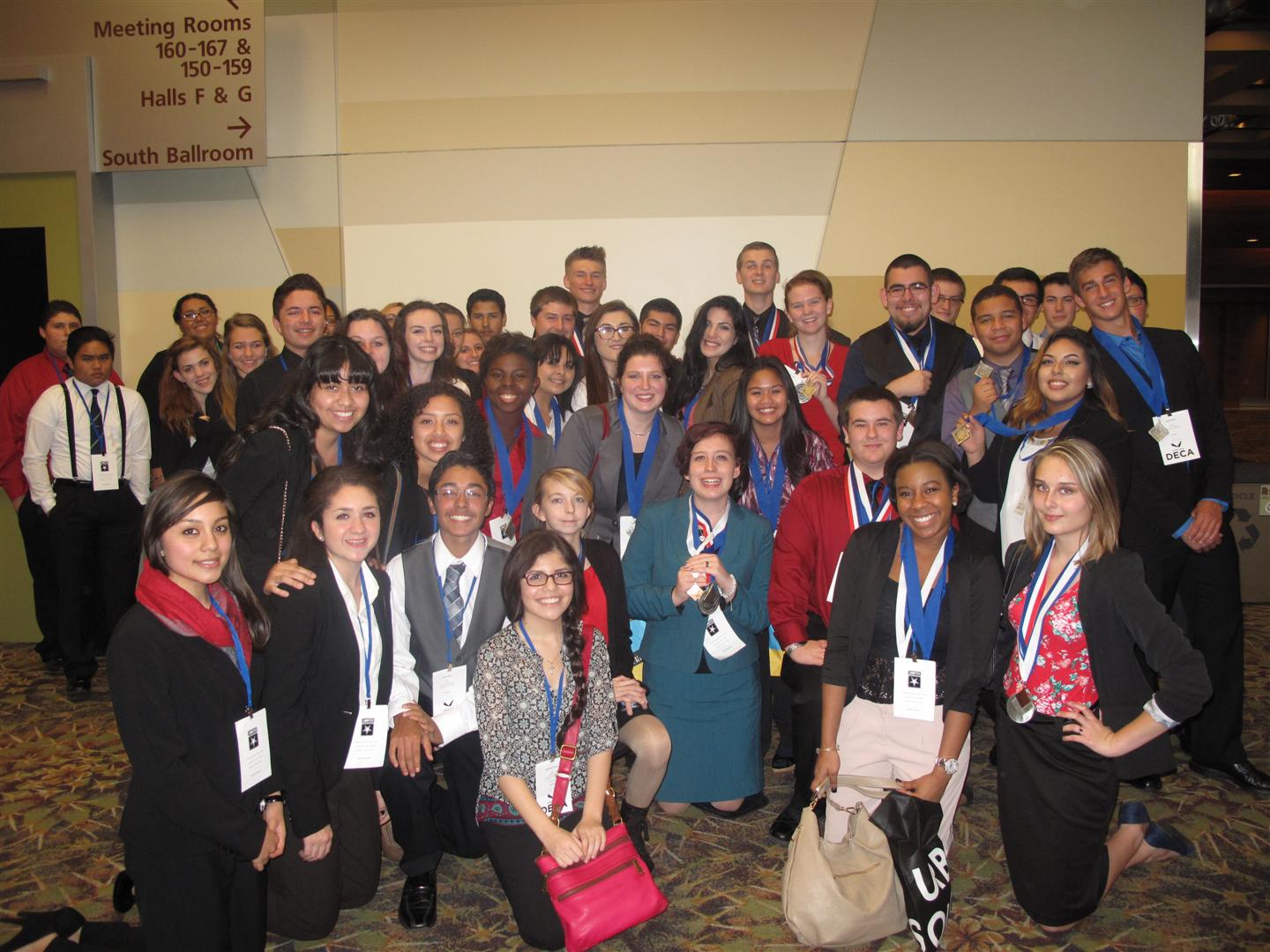 On Monday, January 12th, 50 Maricopa High School DECA members attended the DECA Regional Competition at the Phoenix Convention Center. The students faced more than 500 competitors from various valley schools including Raymond S. Kellis HS, Barry Goldwater HS, and Cactus Shadows.
The team brought home 32 medals and will send 24 competitors to state competition to be held on March 1st – 3rd. The competition will once again take place at the Convention Center in Downtown Phoenix.
Congratulations to seniors Micah Buchannan, Crystal Turner, Jacob Bradley, Bianca Arnett, Anthony Gonzales, and junior Kat Harding for earning test medals for the highest test scores.
Role Play medals
Kat Harding, Lauryn Vela and Valeria Ortiz: Apparel and Accessories Marketing.
Briana Walker, Anthony Gonzales, and Jamie Cluff: Hotel and Lodging Management.
Bianca Arnett: Quick Serve Restaurant Management.
Devaugn Sutton: Business Services Marketing.
Freshman David Shaffer: Principles of Hospitality.
Pamela Crabajales and Andrea Russo: Buying and Merchandising (team)
Natalie Mabee and Yazlin Villalobos: Hospitality Marketing (team)
Lililan Chitwood and Alyssa Hollingsworth: Travel and Tourism Management (team)
Micah Buchannan, Taylor Holz, Luke Spencer and Blake West: Sports and Entertainment Marketing (team)
Additionally, Luke and Blake, Micah and Taylor, Lillian and Alyssa, and Kat Harding earned overall medals for placing FIRST in their division.
The Maricopa Unified School District is proud of the accomplishments of these outstanding high school students. For more information about Maricopa High School, please visit our website at www.maricopausd.org.
"DECA is an international organization for high school and college students dedicated to emerging leaders and entrepreneurs in the fields of marketing, hospitality, business management and finance."