« Back to news list
MUSD Excels at Arizona Future Cities State Competition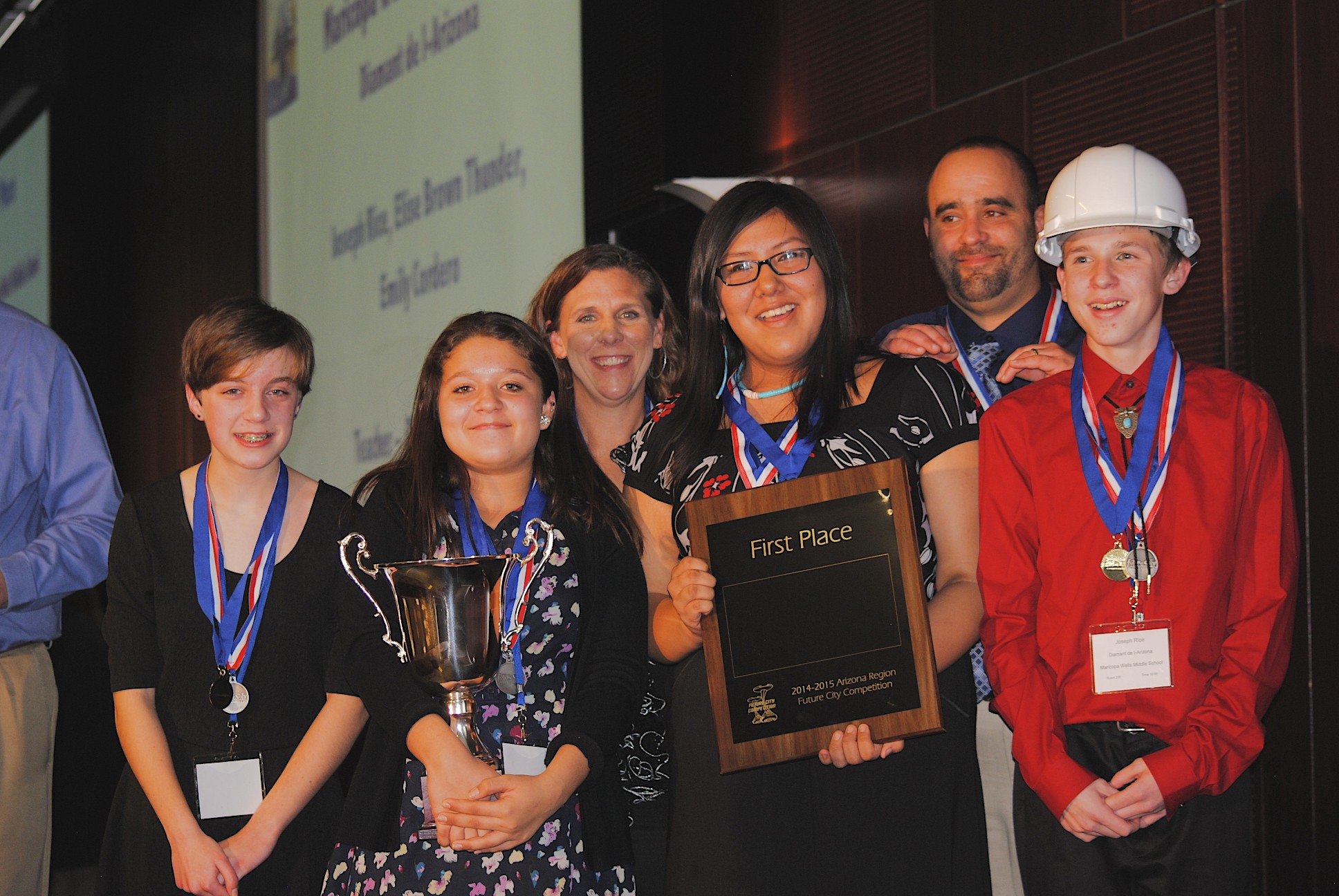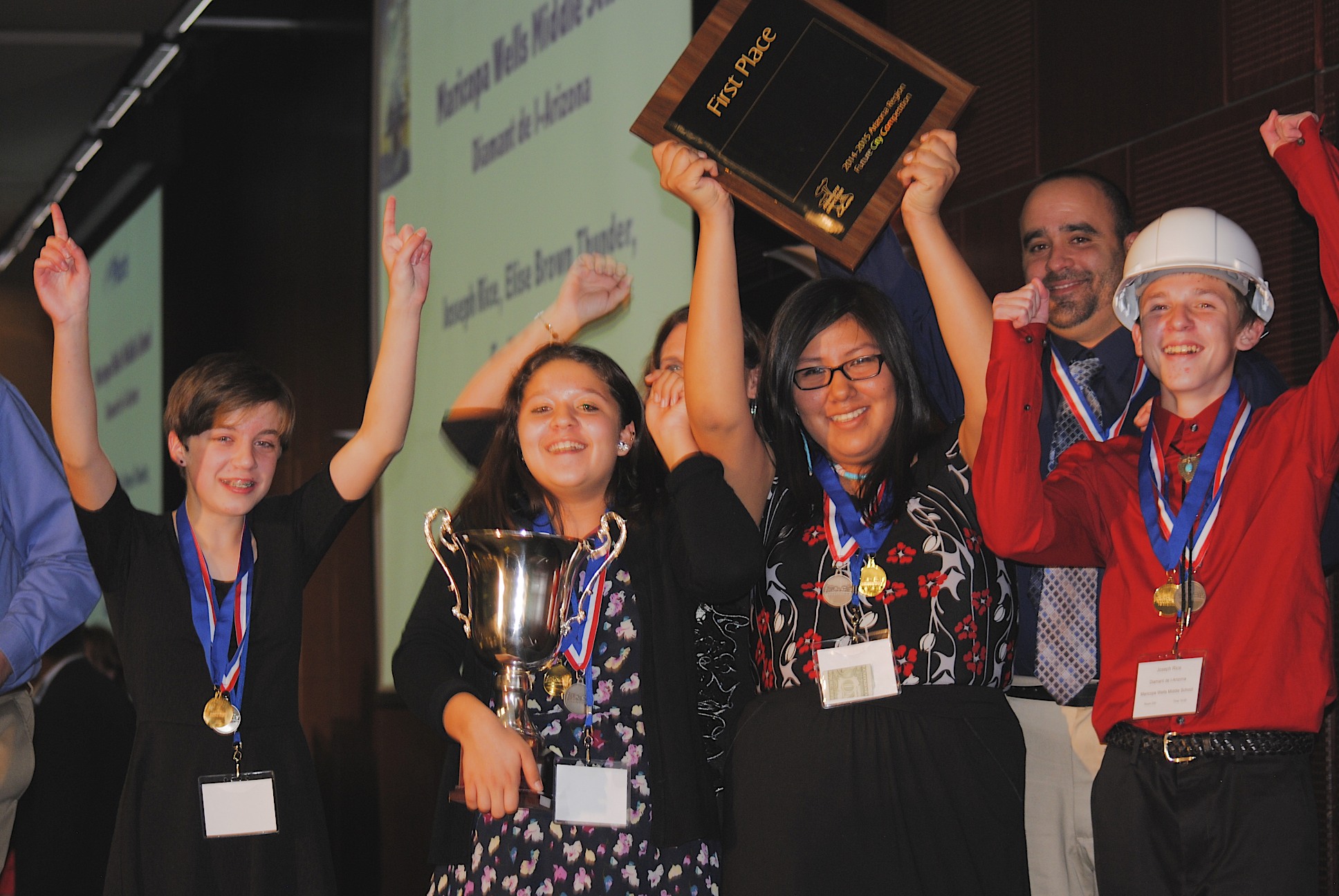 On Saturday January 17th, academic teams from Maricopa Wells and Desert Wind Middle Schools' MUSD 20+1 classes competed in the Arizona Future Cities State Competition which was held at Arizona State University's Memorial Union Hall. The Future Cities teams from the District garnered one-half of the awards presented on Saturday. The highlight of the day was the Maricopa Wells Team of Joseph Rice, Elise Brown Thunder, Emily Cordero, Sarah Skrnich (Project Manager) placing first in State for their project entitled "Diamant de l'Arizona". As a result of their first place finish, the Maricopa Wells students will be traveling to the Future Cities National Competition to be held in Washington, D.C. on February 15th – 17th. Other winners included:
Popular Vote
Diamant de l'Arizona
Joseph Rice, Emily Cordero, Elise Brown Thunder, Sarah Skrnich
Award of Distinction
Kenko Toshi
Evan Grace, Emma Lee Morano, Emma Schrader, Aman Mahant
Best Computer Model
Genoa
Connor Witte, Elias Brown Thunder, Nicholas Perez, Gabriel Thornsbury
Innovative Use of Infrastructure
Kunst van de Oogst
Jordan McGee, Megan Hahn, Morgan Martin
Most Innovative Structure
Matamis
Daxton Redfern, Ryan Pick, Jacquelyn Bui, Clarissa Sauceda
Best Scale Model
Para Dar
Sydney McDill, Alysa Huffman, Aniya Windsor and Shane Sexton

Most Engineering Discipline, Involvement and Innovation
Piao Yuan Gong
Parker Hunsaker, Henry McCloskey, Jonah Benson and Matthew Whitely

Best Narrative
Piao Yuan Gong
Parker Hunsaker, Henry McCloskey, Jonah Benson and Matthew Whitely

Best Multimodal Transportation System
Juwel
Ana Hoopes, Savannah Shelabarger, Isabel Younicutt and Riley Bell-Niver

Special Award for Project Manager
Riley Bell-Niver

Best Team Effort
Alto Granja
Ruth Sherwood, Rainie Sanders and D'Avion Cyprian

Walton Sustainable Community Award
Juwel
Ana Hoopes, Savannah Shelabarger, Isabel Youniacutt and Riley Bell-Niver
Shannon Hull, 20+1 Teacher at Desert Wind Middle School stated, "This competition is the product of our blended learning environment at DWMS and MWMS. We utilize project-based learning that fosters the student's intellectual creativity. The students learn the importance of team work and communication while using the engineering design process to create their magnificent city. We are unbelievably lucky to have intelligent and creative students and the support of all of the parents in our program. Teaching in this atmosphere with terrific teaching partners is the way teaching and learning should happen, and we in MUSD are lucky that the District supports the Blended Learning 20+1 programs at all of our schools."
The Maricopa Unified School District is proud of the accomplishments of these middle school students and their teachers. For more information about MUSD 20+1, please visit our website at www.maricopausd.org (Maricopa Wells Middle School 520.568.7100 or Desert Wind Middle School 520.568.7110).
"Future City Competition, a national STEM-based competition provides a fun and experiential challenge for sixth, seventh and eighth grade students. Future Cities was developed to help middle school students discover and foster interests in science, technology, engineering and mathematics during the critical years of their education."