« Back to news list
MUSD Summer Programs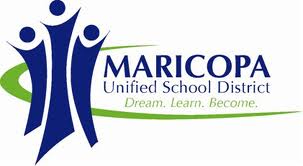 This summer the Maricopa Unified School District will again offer free summer programs for students who attend Butterfield Elementary, Maricopa Elementary, Saddleback Elementary, Santa Rosa Elementary, and Desert Wind Middle School. The programs start on June 1st and run until June 18th from 8:00 a.m. to noon Monday through Thursday. This year each elementary school will focus on science. Elementary students will spend time working on academics as well as participating in special activitities like culinary arts and physical education. Breakfast and lunch are provided at the elementary sites free of charge. At Desert Wind Middle School students will focus on reading, math, science, social studies and many fun activities. Lunch is provided at Desert Wind at no cost to students. Free bus transportation is available at all schools for students who ride a bus during the regular school year.
Only students who attended these schools during the 2014-15 school year are able to attend these summer programs. The reason that enrollment is limited is because these programs are grant funded and the grant does allow for open enrollment. Another requirement of the grant is that participation is by invitation only as there are a limited number of seats. If you are a parent/guardian interested in enrolling a child who currently attends one of the these schools, please contact your child's school and speak to the school's 21st Century site coordinator, or contact Wade Watson, at either (520) 568-5113 or at wwatson@musd20.org.
MUSD also has a fee based program - Copa Kids Care. This before and after school program will again offer a full summer program at Butterfield Elementary School. The program starts on June 1st and runs until July 24th. It is open from 6:00 a.m. until 6:00 p.m., Monday through Friday. The program offers full childcare services as well as fun and exciting weekly themed mini-camps. Themes include: science, health and wellness, bugs, art, cooking, sports and fitness, sea life, and world geography. Students will also take field trips to Green Zone Nutrition and Ultrastar Cinema. Prices are based on the type of care a student needs. Transportation is not provided. For more information on Copa Kids Care, please contact Traci Manoguerra at (520) 568-5100 ext. 1011 or e-mail at tmanoguerra@musd20.org.