« Back to news list
MHS Tech and Theater Departments Performs Pirates of Penzance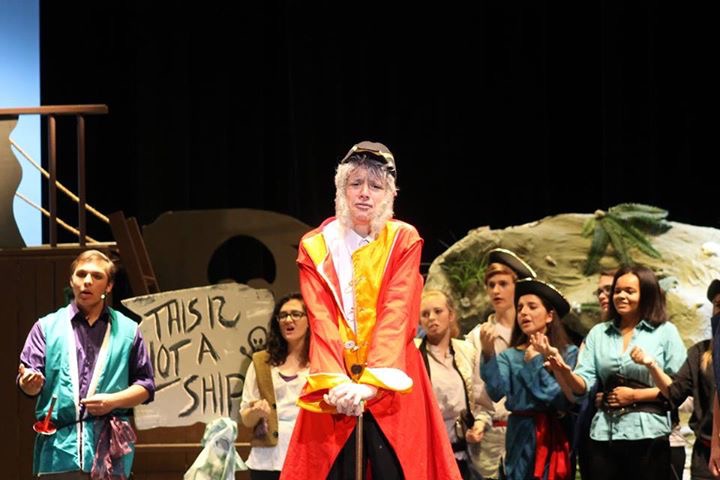 (Maricopa) Gilbert and Sullivan's classic operetta The Pirates of Penzance was recently performed and staged by nearly 200 Maricopa High School (MHS) students. Four performances were held on November 12th through the 14th. The musical was directed by theater and drama teacher Mrs. Cynthia Calhoun and theater tech teacher Mr. Kevin Piquette. Attendees were treated to an exciting evening of song, comedy and swashbuckling action. The District would like to recognize the outstanding efforts of the cast, the supporting members of the performance and of course the talented directors.
The next theater production will be the comedy "The Philadelphia Story" by Philip Barry, and it will be performed on February 4-6 in the Maricopa High School Lecture Hall. The spring musical will be the popular musical adaptation of the Victor Hugo classic, "Les Miserables", and it will be staged at the end of April in the MHS Performing Arts Center.
Directors comments:
"Overall, I'm very happy with our production and what we have been able to accomplish within our theatre department. This is the first operetta we have performed, and is more demanding than a traditional musical or straight play. Students were tasked to put together this entire production - music, acting, costumes, sets, props, choreography, light and sound design, and more - within only two months. Additionally, Pirates of Penzance has been our most financially successful production to date - the box office proceeds we earn go right back into the program for future shows, thespian competitions/festivals, and club resources. So huge thanks to the community for their support!" - Mrs. Cynthia Calhoun
"We are so proud of the level at which our students performed in the M.H.S. production of Pirates of Penzance. I think I get the most pride from knowing that every show we do is completely student run. Every light, microphone, prop change, set piece, costume, entrance or line happens because students at Maricopa High School made them happen. This show was one of our biggest and most successful to date and raised the bar for everything that we do moving forward. I am excited for the future of both programs and can't wait to see what our students can build and perform next." – Mr. Kevin Piquette
For more information about Maricopa High School or the Maricopa Unified School District please visit our website at www.maricopausd.org.