« Back to news list
Elementary students collect 12,978 pounds of food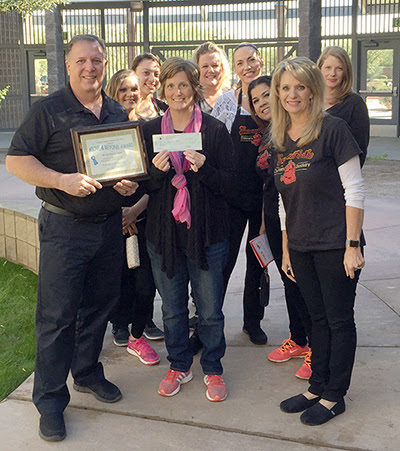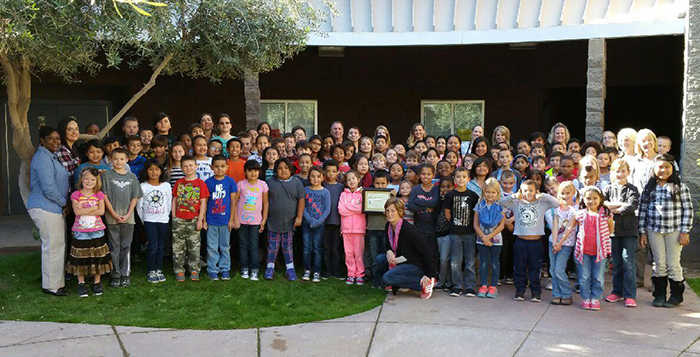 (Reprint from InMaricopa)
Maricopa Elementary School received a $1,000 check from Dr. Duane Clouse at Treasured Smiles Children's Dentistry for collecting 3,661 pounds of food in November for the Maricopa Food Bank. Every year, Dr. Clouse sponsors a contest for those Maricopa elementary schools that wish to participate in helping collect food for the Maricopa Food Bank. "The contest is a great way for the children to get involved in helping those less fortunate. It's something we can do for the community that can make a difference," Clouse said.
A total of 12,978 pounds were collected by many of the Maricopa elementary schools this year. For the past six holiday seasons, Clouse and his staff have donated $1,000 to the elementary school that collects the most pounds of food per student as part of the "Feed Our Families" food drive in Maricopa. MES's top classes were Mrs. Guggisberg's first grade, Ms. Busch's fourth grade and Ms. Cummings' fifth grade.
Along with the check, Dr. Clouse and staff presented to MES Principal Jennifer Robinson an "Above and Beyond" certificate that praised the school for its hard work and their achievement. Treasured Smiles would like to thank all those schools and volunteers that helped with the food drive this year. It's because of the hard work put in by these kids, teacher, school staff and parents that made this project successful this year.