« Back to news list
New Readerboard at Butterfield Elementary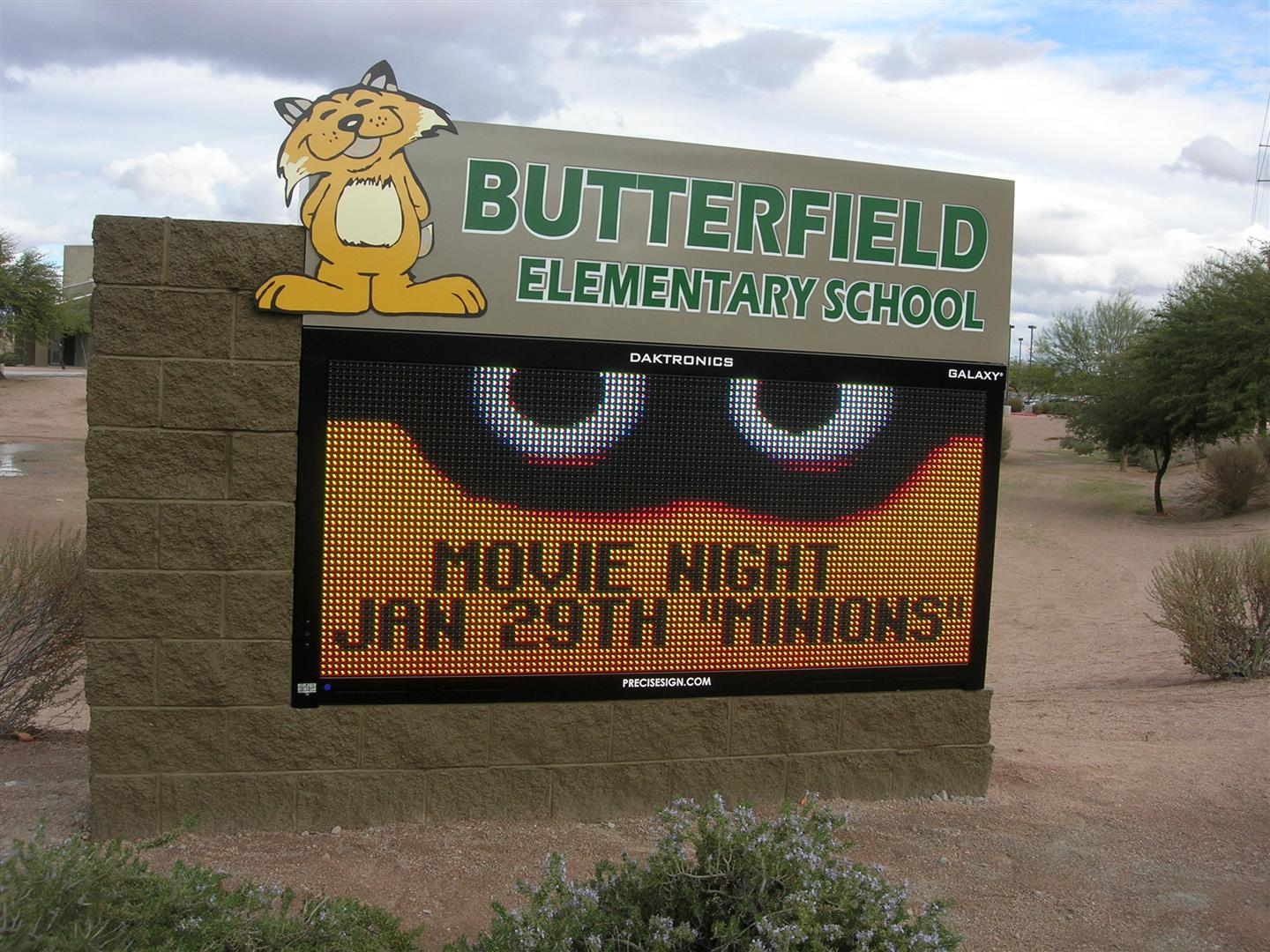 During the winter break a new readerboard sign was installed at Butterfield Elementary. The district's goal is to have a readerboard at each school to improve communication with parents and the community. Three schools had readerboards installed when they were built as part of the original construction cost - Mariciopa High School, Pima Butte Elementary, and Santa Rosa Elementary. During the 2014-15 school year, new readerboards were installed
at Maricopa Elementary School and Saddleback Elementary School. The cost of each of these signs was approximately $6,000. For 2015-16 the district planned to install new signs at Butterfield Elementary and Santa Cruz Elementary. About four years ago, the Butterfield Parent Teacher Organization (PTO) asked for permission to pay the extra cost of making the readerboard electronic. Butterfield
PTO President Jaime Mason, and Vice President
Chris Eldridge have led fundraising efforts for the past several years to make this electronic readerboard a reality. When the board was finally completed, Eldridge stated:
"Thank you to the families, volunteers, and staff at Butterfield Elementary for the years of work towards our goal."
The PTO supports many other projects at Butterfield and raises funds to support these projects, including: the purchase of additional math materials for students,
shirts for Butterfield student teams, lunch for teachers during student conferences, gift cards for teachers during Teacher Appreciation Week, pencils, water, and mints for students during state testing, shirts for staff and faculty each year, coffee for kindergarten parents on the first day of school, etc. In addition, PTO members volunteer numerous hours to help staff and faculty throughout the year.
Thanks to the Butterfield Elementary PTO for such excellent support.