« Back to news list
Desert Wind Students Compete at Rubik's Cube Competition at ASU-West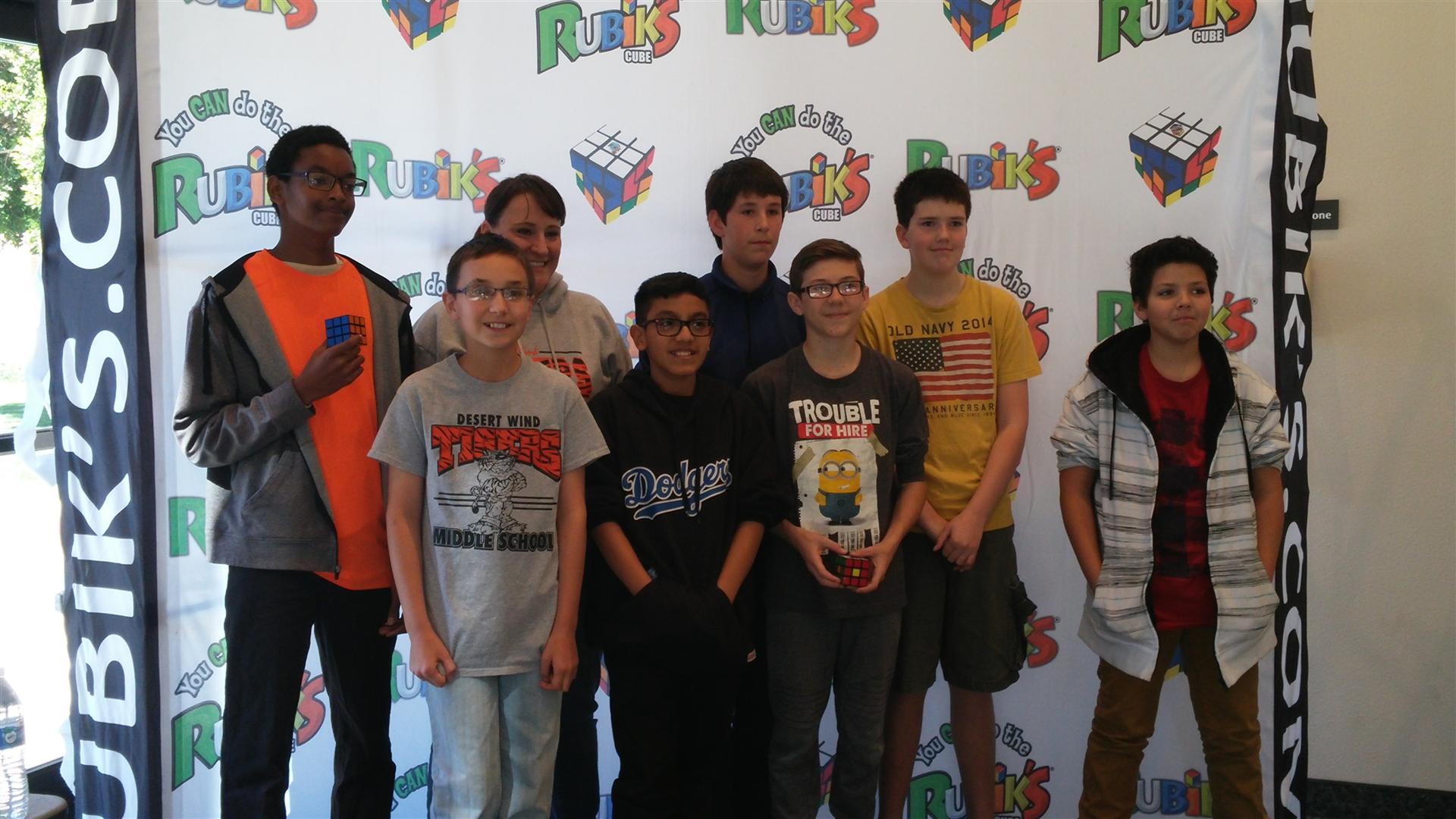 Submitted by Shannon Hull – Desert Wind 20+1 Instructor and Rubik's Cube Club Sponsor
(Maricopa) The Desert Wind Middle School (DWMS) Rubik's Cube Club went to a competition at Arizona State University – West Campus on Saturday, February 6th as part of the 2016 Arizona Sci-Tech Month of Festivities. The Desert Wind Tigers competed against 31 other schools for the best team-time as well as a solo competition. For the team competition, teams of 8 students compete for the best overall time at solving 25 Rubik Cubes. DWMS only had 7 students, but they still solved all 25 Rubik Cubes in an amazing 6 minutes and 11 seconds. Club Sponsor Shannon Hull commented, "Although this was the fastest time ever our students have completed this task, it was not quite good enough to get into the finals."
For the solo competition, 3 of the 7 students chose to compete.
ü Jarom Hoopes (7th grader) solved it in 48 seconds
ü Shilin Cardenas (7th grader) solved it in 1:40
ü Shane Sexton (8th grader) solved it in 2:15
Hull explained, "Being involved in the solo competition is a very daunting experience for our students, we are so proud of how great they did and can't wait to see how much they improve." Additionally, she added, "This was our first competition that we have participated in and it was a learning experience for all of us. We have new strategies that we will begin to work on and each student now has their own personal goals to try and accomplish. The Tigers are now even more excited for more competitions that we can compete in and keep improving our times. Even though I am the sponsor for this club, I still cannot solve a Rubik's Cube, although the students are still trying to teach me! It is awesome for me to see how far these students have come in solving these complex puzzles, the algorithms and the combinations that they memorize are not easy... it is a lot more work than I ever thought! ?"
The Rubik's Cube Club is part of our 21st Century After School Program at Desert Wind Middle School. For more information about Desert Wind Middle School, the District's 20+1 Program or the Maricopa Unified School District please visit our website at www.maricopausd.org.