« Back to news list
Maricopa High School DECA Students Excel at State Career Development Conference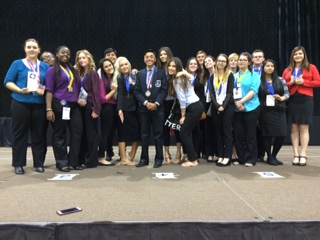 On March 1, Maricopa High School DECA delivered their best performance
to date at the State Career Development Conference. Competing against
more than 2,600 student competitors and 90 Arizona high schools, MHS
DECA brought 27 students competitors to the state conference and
returned with 30 medals! MHS DECA dominated in team role plays in the
areas of Marketing Communications, Travel and Tourism, Hospitality,
Buying & Merchandising, and Sports & Entertainment Marketing as well
in individual role plays of Business Service Management, Apparel &
Accessories Marketing, Quick Serve Restaurant Management and Hotel &
Lodging Management. MHS earned 21 first place rankings in these
competitions. Eight students went on to finals, with four students
qualifying for the International Career Development Conference April
22-27 in Nashville, TN.
Juan Carrillo, MHS junior and MHS DECA Chief Marketing Officer, was
elected Arizona DECA State Officer for the 2016-2017 school year. He
will represent all rural schools and district and serve on the Arizona
DECA Executive board. Chosen from more than 80 applicants, Juan ran
along with 15 other candidates for one of the coveted 8 state officer
positions.

DECA is an organization dedicated to emerging young leaders and
entrepreneurs in the fields of finance, hospitality, management and
marketing in high schools and colleges around the world. Additionally,
MHS alumni Valeria Ortiz took third place in Collegiate DECA's state
conference representing Northern Arizona University.