« Back to news list
Sigma Gamma Rho Hosts Youth Symposium at Maricopa Elementary School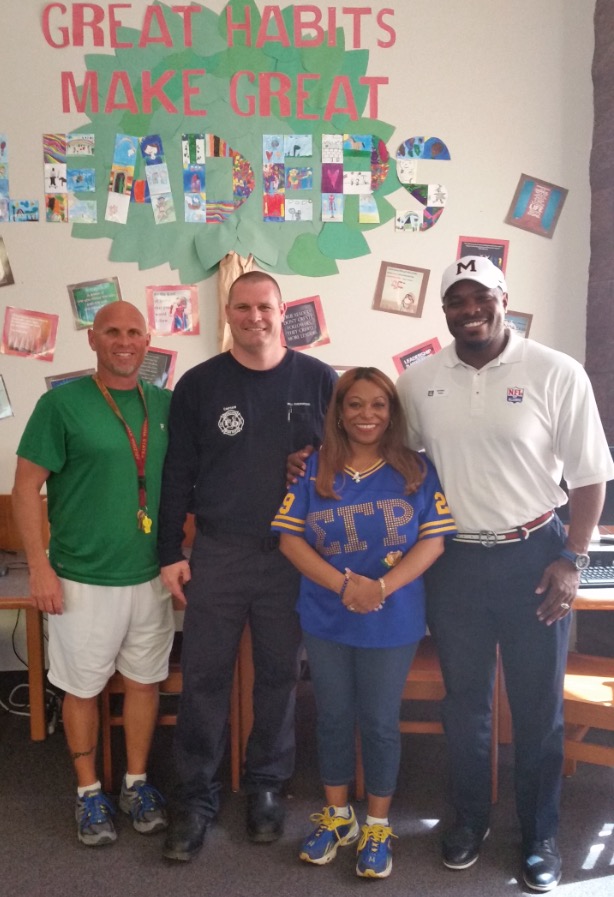 Submitted by Linette Y. Caroselli – Teacher at Maricopa Elementary School and Sorority Member
(Maricopa) The ladies of the Kappa Eta Sigma Chapter of Sigma Gamma Rho Sorority, Inc. are hosting the 19th Annual Youth Symposium – "Building Partnerships to Support Our Youth." The goal is to demonstrate that when we work together, we create a strong "community village" positioned to support our young people. Male and female youth are invited. As part of this national event, a community service event was held on Thursday March 3, 2016 at Maricopa Elementary from 9:00 A.M.- 2:00 P.M. The Kappa Eta Sigma Chapter partnered with Maricopa Elementary School and the Be Awesome Youth Coalition to introduce students to the sorority's new partnership with USA Track & Field, Run Jump Throw Program sponsored by the Hershey Company.Councilman Bridger Kimball and former NFL Denver Bronco, Drew Anderson were special guests.
Chapters nationwide will host the symposium on Saturday, March 12, 2016, as a unified effort to support youth. "Members of Sigma Gamma Rho believe in encouraging and mentoring youth. We are proud to sponsor this annual initiative. It is important to work with community partners to develop young people in all facets of their lives, educationally, socially and emotionally. Sigma Gamma Rho Sorority knows that the youth are our future; we must prepare them so that they can lead the way," said Bonita M. Herring, 23rd International President of Sigma Gamma Rho Sorority.
For more information about Maricopa Elementary School or the Maricopa Unified School District please visit our website at www.maricopausd.org.
About Sigma Gamma Rho
Sigma Gamma Rho Sorority, Inc. is a leading international, non-profit community service organization that continues to grow through sisterhood, scholarship and service. The sorority has more than 500 chapters in the United States, Bahamas, Bermuda, Canada, Germany, Korea and the Virgin Islands. Seven educators founded Sigma Gamma Rho on November 12, 1922 at Butler University in Indianapolis, Indiana. The sorority has been dedicated to service for more than 90 years. Members work to enhance the quality of life for their families, friends and neighbors, and are committed to "Greater Service, Greater Progress."