« Back to news list
Evan Grace Named Prudential Spirit of Community Award Winner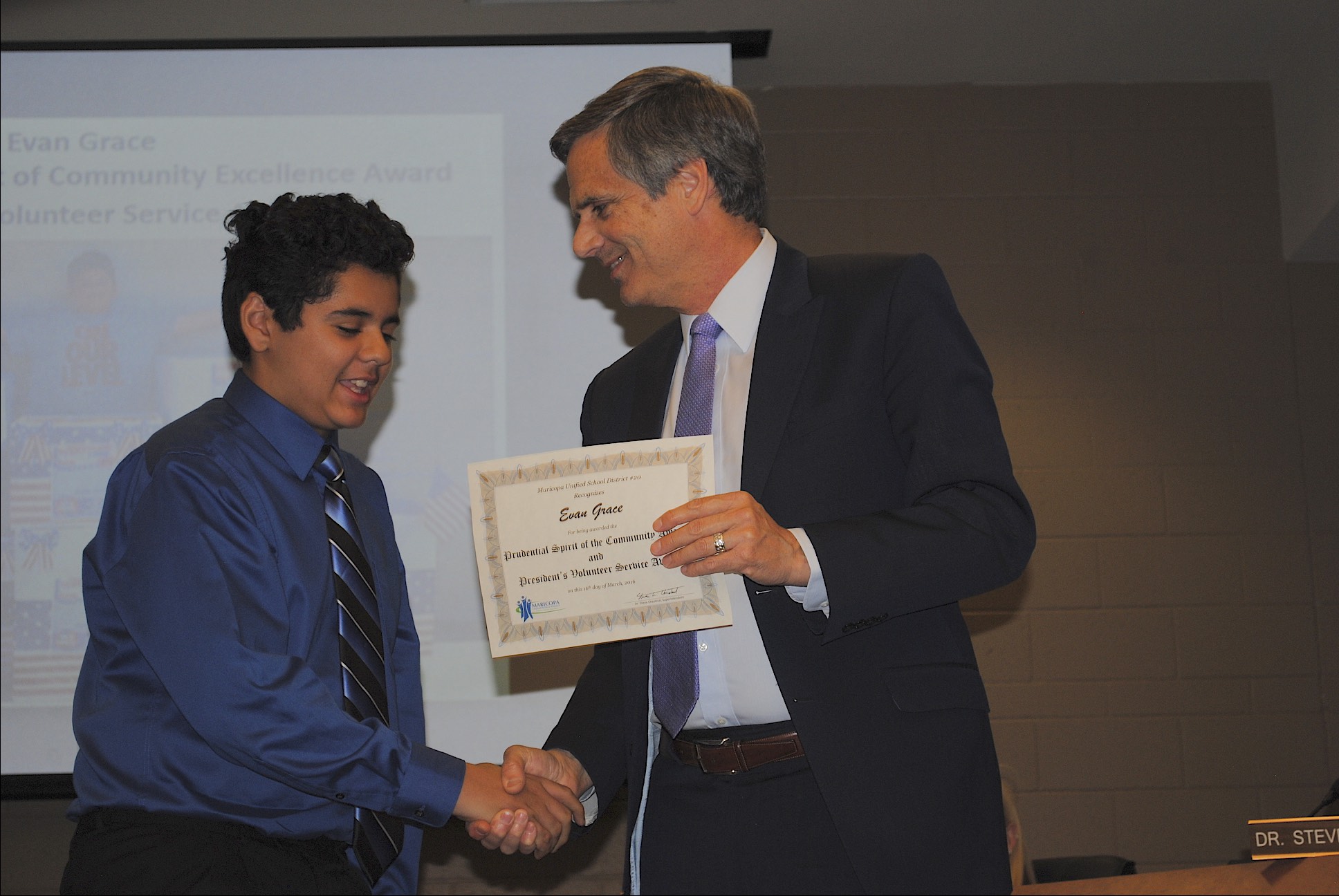 (Maricopa) On February 19, 2016 Maricopa High School Freshman Evan
Grace was presented with a 2015 Prudential Spirit of Community
Excellence Award for demonstrating "exceptional initiative in service
to the community" and he was designated as one of the top student
volunteers in Arizona. Evan's signature event for the past two years
has been the "Sock Drive". Both years, he has spearheaded in
cooperation with the Blue Star Moms of Maricopa a donation drive to
provide socks for our active military service troops. This past summer
500 pairs of socks were collected and donated. Evan was nominated for
this award by Mrs. Renita Myers Principal of Maricopa High School with
support and encouragement from Mr. Rick Abel Principal at Maricopa
Wells Middle School.
In an unanticipated follow-up, Evan also received a signed personal
letter from President Barack Obama along with a President's Volunteer
Service Award. This award offered by the Corporation for National and
Community Service is presented "in recognition and appreciation for
(Evan's) commitment to strengthen our nation and communities through
volunteer service".
Along with the Sock Drive, Evan is a Youth Champion for the American
Cancer Society's Relay for Life. He is also a 2-year member of the
City of Maricopa Youth Council, a role that necessitated a lowering of
the age requirement to allow his participation as an 8th grader. Evan
is also deeply engaged at Maricopa High School and also is involved in
many community projects. His passion and commitment to the Maricopa
community is inspiring and the Maricopa Unified School District is
proud to call Evan one of our own. Evan was recognized at the MUSD
Governing Board meeting on 3/16 for these accomplishments.
For more information about the Maricopa Unified School District please
visit our website at
www.maricopausd.org
.