« Back to news list
MUSD Schools Begin 8/8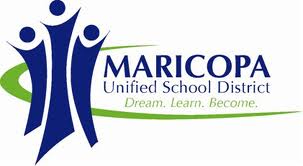 The Maricopa Unified School District is ready to welcome 6,500 students for the 2016-17 school year. Classes will begin on
Monday, August 8th
. School schedules and bus schedules can be found on the school district website at
www.musd20.org
. If a student has not yet registered for the 2016-17 school year it is not too late. Registration information can be found on the district's website or at each neighborhood school.
MUSD school busses will transport 3,600 students to and from school each day this school year. Keeping buses cool for the first month can be a challenge when temperatures exceed 100 degrees, particularly on the afternnon routes. All MUSD buses have air conditioning, but the air conditioning units are only designed to drop the temperature in the bus 10-15 degrees. MUSD does not provide water to students on buses. Parents are asked to provide a bottle of water for the bus ride home in the afternoons. Another option would be to provide a reusable container that students can fill with water before boarding the school bus.
Parents and community members are reminded to exercise caution when driving near schools beginning
Monday, August 8
.