« Back to news list
Marching Rams Moving Up!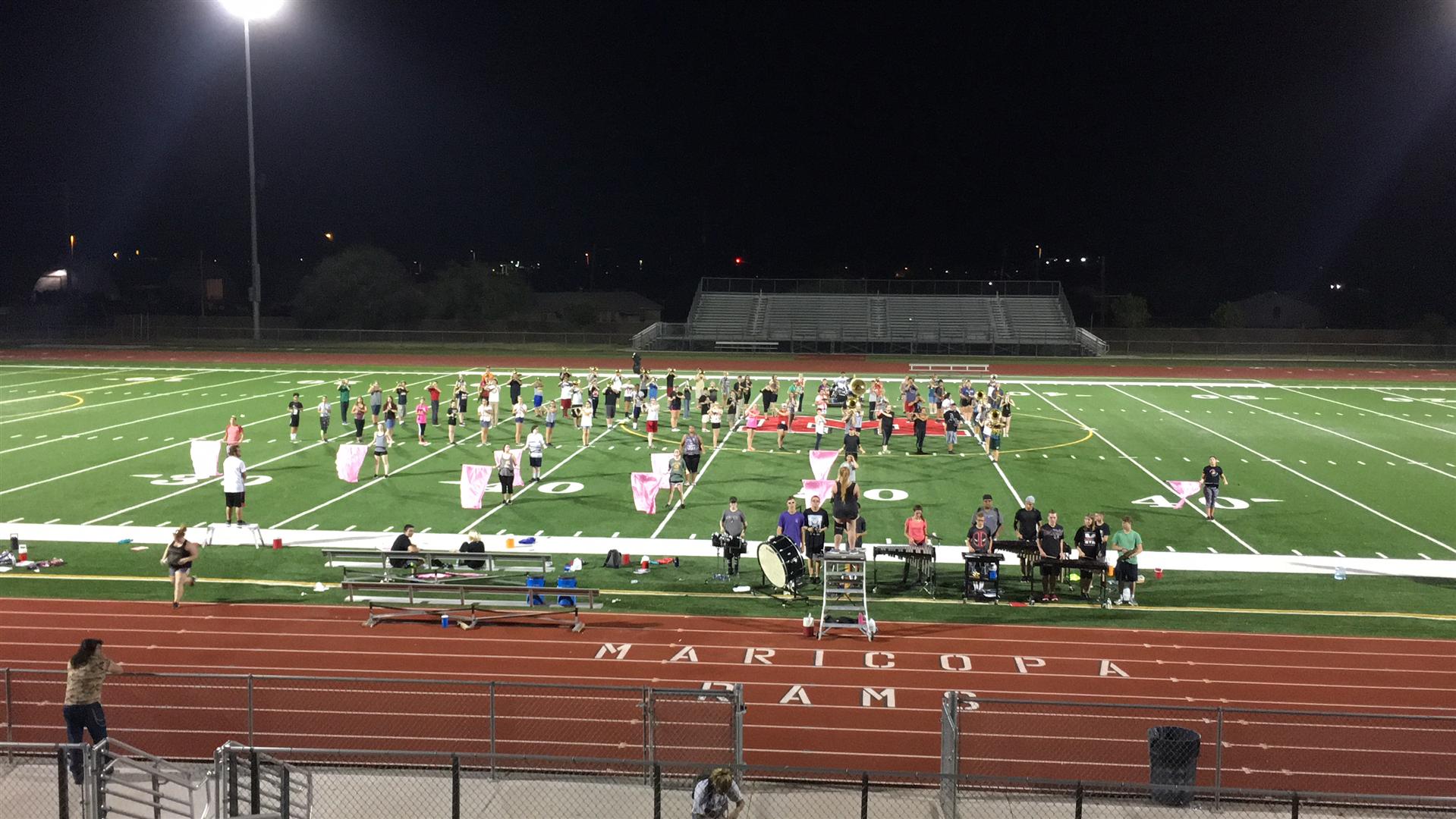 (Maricopa) Growth changes many things. Along with the Maricopa High School football team and athletic programs, the Maricopa High School Marching Rams will move to a new, larger division in two different associations for the 2016 marching season. The band has experienced rapid growth over the last five years, from less than 30 students in 2012 to 118 this year. This puts the Marching Rams into Division 1 for the Arizona Band and Orchestra Director's Association (ABODA) and the 4A Class for the Arizona Marching Band Association (AzMBA). Both classifications are the largest classification possible.
Due to rapid growth, the Maricopa Marching Rams have the unusual distinction of having performed in all four ABODA divisions in the last 5 years -
2012 - Festival Class - 28 members
2013 - Division III - 55 members
2014 - Division II - 66 members
2015 - Division II - 92 members
2016 - Division I - 118 members
MHS Music Director and Fine Art Chair Mr. Ivan Pour stated, "The band will be performing among the best programs in our state this year and after working with our band for several weeks, this change in division has become a source of motivation - we are working hard and the students are excited to accept this new challenge!"
Upcoming Festival and Competitive Performances include:
ABODA Evaluation Show and Clinic with ASU Marching Band staff -

September 17th

AzMBA Mesquite HS Show -

October 8th

ABODA Basha Show -

October 22nd

Northern Arizona University Band Day -

October 29th

ABODA State Marching Band Festival @ Dobson HS (if qualified) -

November 5th

ABODA Marching Championships (if qualified) -

November 12th

AzMBA Championships @ Perry and Campo Verde High Schools - November 19th
Both AzMBA and ABODA use the overall number of performers in marching bands to determine classification. For ABODA, the breakdown is
Festival Class - less than 45 performers,
Division III - 64 or fewer performers
Division II - 65 to 94 performers
Division I - 95 or more performers
For AzMBA, it is
Class 1A - 0-49 performers
Class 2A - 50-74 performers
Class 3A - 75-104 performers
Class 4A - 105+ performers
For more information about the Maricopa High School and the Maricopa Unified School District please visit our website at www.maricopausd.org.