« Back to news list
MHS Theater Departments Shines at Arizona State Thespian Festival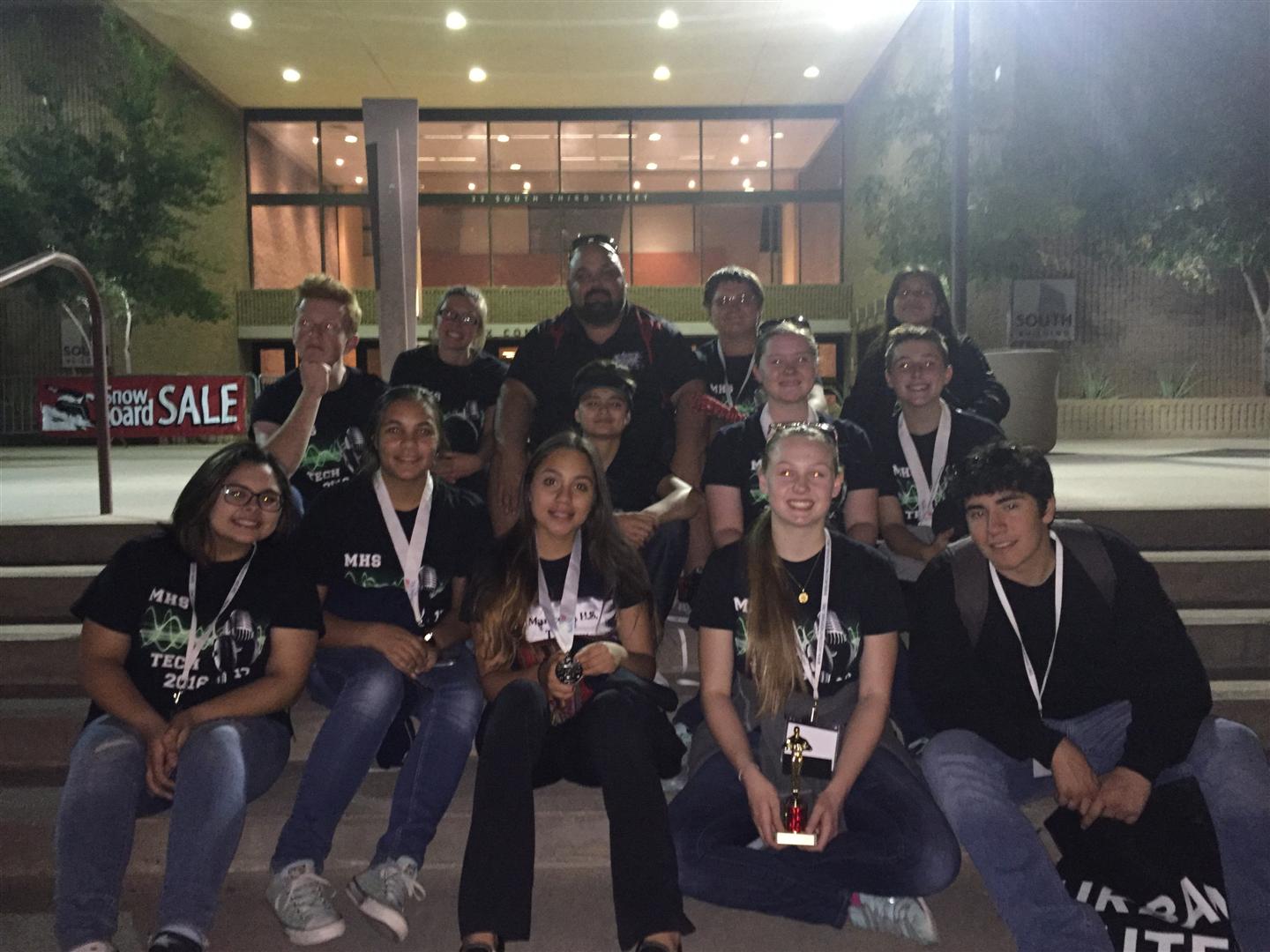 (Submitted by Ms. Cynthia Calhoun – MHS Theater Instructor and Choir Director)
(Maricopa) On Friday, November 18 and Saturday, November 19, students from the MHS Theatre Company, Thespian Troupe, and Technical Theatre classes traveled to the Phoenix Convention Center for the annual Arizona State Thespian Festival.
ü Senior Mahkai Ball scored Excellent for his solo musical presentation of "If I Can't Love Her" from Beauty and the Beast
ü Seniors Tyler Curtis and Carlos O. Venegas scored Excellent for their vocal duet of "Something to Believe In" from Newsies
ü Senior Dylan Stradling scored Excellent for his monologue presentations (selections from Much Ado About Nothing and The Philadelphia Story)
ü "Human Again," our group musical selection from Beauty and the Beast, scored an overall Superior
ü The one-act play Bang Bang You're Dead scored Excellent
ü In the Tech Challenge, a SkillsUSA Event, MHS teams took second place in Costume Quick Change and first place in Knot-Tying
ü In Tech Challenge, the MHS team of Hayley Ireland, Sidney Eaton, Crystal Galvin, and McKenzie Kelly took second place overall, beating out over 30 other teams in competition.
Additionally, three seniors (Tyler Curtis, Nikolas Mase, and Carlos O. Venegas) performed for dozens of colleges for scholarships. All three students received multiple callbacks and scholarship offers on the spot. Please congratulate these students on their outstanding work!
MHS latest theatrical performance of "Bang Bang You're Dead" will have a public performance on December 10 in the Performing Arts Center Black Box. More information will be forthcoming soon.
Thank you for your support of the Fine Arts in our District! For more information about the Maricopa High School Theater Department and the Maricopa Unified School District please visit our website at www.maricopausd.org.