« Back to news list
CADET PERFORMANCES INSPIRE MHS AFJROTC CADETS AT 17TH ANNUAL WEST-MITCHELL DRILL MEET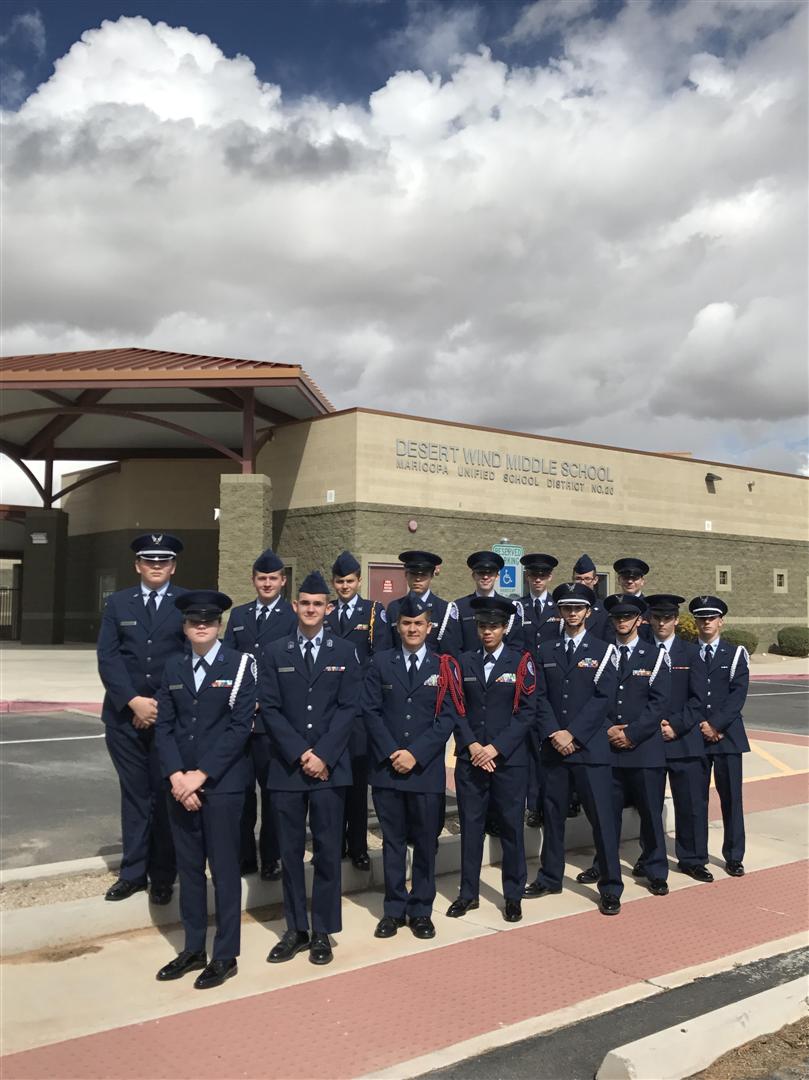 (Maricopa) Maricopa High School Air Force Junior ROTC instructor Lieutenant Colonel Allen Kirksey recently announced the formation of a drill team comprised of the program's most dedicated and disciplined cadets. He stated, "A couple of weeks ago we went to observe JROTC programs perform at the West-Mitchell Drill Meet in Phoenix on February 20th, and our cadets had a blast!" During the West-Mitchell Meet, the annual contest included more than 400 Junior Reserve Officer Training Corps cadets from 20 high schools competing in eight different drill categories. The competitions included inspection, armed and unarmed regulation, color guard, and armed and unarmed exhibition drills. The cadets' overall appearance and bearing were closely inspected. Judges also questioned cadets on their knowledge of military history and ranks. The events in the drill competition involved precision and regulated movements. Teams were judged on everything from uniformity, cadence, hand positioning, commanding, sequence, intervals and discipline. Team members could lose points for hair and uniform violations and subtle shifts while standing at attention. Teams are judged from the moment the unit leader reports in until he or she reports out. Judges ordinarily record cadence and timing sequence violations.
Lt. Col. Kirksey stated, "They (the cadets) determined right then and there on that rainy and dreary day that they wanted to put a team together to compete as soon as possible." The drill team has been practicing for the past week, and did their first performance at Desert Winds Middle School on Tuesday February 28th. Lt. Col. Kirksey has included pictures of their performance, and he also commented, "As we go forward, I would expect us to be competing quite a bit next year."
For more information about the AFJROTC program at Maricopa High School or for more information about the Maricopa Unified School District please call 520.568.5100 or visit the District's website at www.maricopausd.org.
About Air Force JROTC
Our Mission
"Develop citizens of character dedicated to serving their nation and community."
Our Purpose
Instill in students the value of citizenship, service to the United States, personal responsibility, character, and a sense of accomplishment. To make the greatest positive impact in the lives of our cadets as possible. This is perfectly encapsulated in our motto: "Building Better Citizens for America."
Our Vision Statement
Air Force Junior ROTC (AFJROTC) will provide a quality citizenship, character, and leadership development program, while fostering enduring partnerships and relationships with high schools, educational institutions, and communities that help meet our citizen development mission.
Air Force Mission and Core Values
The mission of the United States Air Force is to fly, fight and win—in air, space and cyberspace.
Integrity first, Service before self, and Excellence in all we do.