« Back to news list
MHS Marching Rams Compete at ABODA State Marching Festival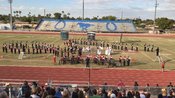 MHS Marching Band
The Maricopa High School Marching Rams, under the director of Mr. Ivan Pour, took the field on November 4th at Dobson High School as part of the ABODA State Marching Festival. The band gave their best performance of the year before a nationally-recognized panel of music educators. In addition, the band got to see an exhibition of the University of Arizona "Pride of Arizona" Marching Band.
"It was a great honor to get to perform on this stage alongside some of the finest band programs in the state of Arizona and before a nationally recognized panel," stated Mr. Pour. "The feedback from this event will prove invaluable as we continue to grow and build the band program at MHS!"
The Marching Rams close their competitive season
this Saturday
with the Arizona Marching Band Association Championships held at Perry High School in Chandler. The performance is scheduled for
6:45 pm.
This promises to be a great last event for our Marching Rams and will include a performance featuring all participating bands. The Marching Rams
will also be performing in the Maricopa Veteran's Day Parade at
9 am
on Saturday
.