« Back to news list
JROTC Cadet Earns Two Academy Nominations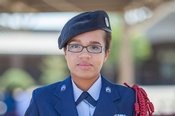 JROTC Cadet
(Reprint of an InMaricopa article by MHS Student Joycelyn Cabrera)
(Maricopa) Maricopa High School senior Dylan Hill has received congressional nominations for the U.S. Naval Academy and the U.S. Military Academy (also known as West Point). After months of preparation, paperwork and interviews, the Air Force Junior ROTC cadet is on the road toward acceptance to one or both prestigious service academies. After a long waiting process, Dylan was excited to get the news of her nomination from Rep. Tom O'Halleran (D-District 1). "Aside from the clear reason of wanting to serve my country, I also want to be in a leadership position as an officer, so I can advocate for the enlisted and contribute to the safeguarding of America and its interests."
Dylan, 17, and her family have called Maricopa home for 10 years. Her favorite classes are AP American Government and JROTC. Dylan has been involved in JROTC all four years of high school. She has been interested in the military since her middle school years and would be the first member of her family to join the U.S military since World War II. Rather than simply enlisting after graduation, Dylan has gravitated toward an academy for the rigorous environment and training, exposure to military environments, and leadership training. Dylan believes an academy would better prepare her to lead others in any situation, as well as offer her many academically challenging opportunities.
She has been taking steps toward this goal since her freshman year. She practices time-management by constantly juggling AP high school courses, JROTC obligations, a job and extracurriculars. She has participated in cross country, Pinal County Teen Court, Youth Council and Governor's Youth Commission. She also exercises at least four times a week. Above all, Dylan makes it a priority to follow through with the responsibilities she is given. Dylan envisions a career as a ground intelligence officer. She would be responsible for many aspects of a military unit, including deployment, tactical employment, planning and welfare of troops.
MHS JROTC Master Sgt. Dishon Gregory considers Dylan a superior student, cadet and citizen. He was "not surprised at all" she received the congressional nomination. Gregory lists Dylan finest qualities as her high standards, attention to detail, motivation, drive and leadership skills. "I am honored to be able to work with Dylan for the past four years," said Gregory, who believes she will be successful in anything she chooses to do.
Dylan's aerospace science teacher Allen Kirksey says she is a proven individual with the highest standards of commitment and dedication to the U.S military. "Without a doubt, she is ready for increased responsibilities as a cadet at West Point or the Naval Academy… I feel that she will prove to be an invaluable asset to the U.S military as a future officer."
Maricopa High School also had a graduate in last year's class – John Blodgett – be nominated for admission to West Point and the Air Force Academy. He chose West Point. MHS Principal Rick Abel said he hopes the successes of his students will encourage others to make the same level of effort to show what MHS graduates can do. "Both students have been good examples of good examples."
For more information about Maricopa High School's Junior Air Force ROTC Program or about the Maricopa Unified School District please call 520.568.5100 or visit the District's website at www.maricopausd.org.