« Back to news list
Instrument Donation Drive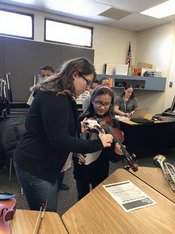 Instrument Donation Drive
(Maricopa) Have an instrument in your house that is collecting dust? No longer need that horn? Want to get that old clunker out of your house? Then bring it to the Maricopa Unified School District (MUSD) Instrument Donation Drive! Donate your old, unwanted, or unused music instrument and put it toward a great cause.
Many students in MUSD rely on school-owned instruments to participate in band and orchestra. Your donation to our program can help us serve more of Maricopa's students! You can also receive a receipt for a charitable donation that you could apply to your 2017 or 2018 taxes. The MUSD Instrument Donation Drive will be Tuesday, March 20 and Thursday, March 22 from 6 to 9 PM at the Maricopa High School Band Room (located behind the Performing Arts Center).
If you have any questions or would like to donate and are unable to attend, contact Roger Wagner (rwagner@musd20.org).For more information about the Maricopa Unified School District please call 520.568.5100 or visit the District's website at www.maricopausd.org.