« Back to news list
Maricopa High School Students Place on the National German Exam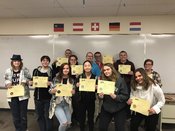 Front row: Tuesday Borst, Vincent Latona, Emma Morano, Cassidy Chang, Nikki Watson, Angelica Vesconi. Back row: Kalen Scott, Zachary Kalnasy, McKay Jones, Porter Jones, Joshua Hoctor, Madison Creamer
View more pictures
(Maricopa) Eleven Maricopa High School (MHS) students earned national honors on the 2018 National German Exam. Seniors Porter Jones and Angelica Vesconi earned gold medals (top 10% nationally), while juniors Madison Creamer, Vincent Latona and Nikki Watson and sophomore Cassidy Chang earned silver medals (top 80th-89th percentile nationally). Seniors Joshua Hoctor and Zachary Kalnasy as well as juniors Tuesday Borst, Kalen Scott, and Emma Morano earned Leistungsurkunden (Achievement Awards) for scoring just below bronze medal range.
"This is the second year we have offered a German program at Maricopa High School, so these students represent our first group with two years of German. I'm very proud of how they performed, and excited to see how the German I students do on their national test in April," said McKay Jones, MHS German teacher. "We have some really diligent first year students, and I have high expectations for them."
In its 58th year, the National German Exam was administered to more than 26,000 high school German students around the country, and offers German teachers a means of comparing students with other students nationwide. Students with at least a full year of German who score in the 90th percentile are eligible to apply for a paid summer study trip to Germany. 44 trips were awarded in 2017.
For more information about Maricopa High School or about the Maricopa Unified School District please call 520.568.5100 or visit the District's website at www.maricopausd.org.